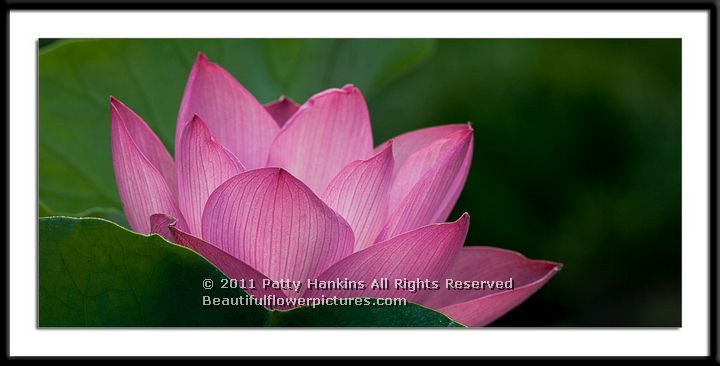 Lotus Blossom IV © 2011 Patty Hankins
Here are some posts and articles that I enjoyed this week – hope you enjoy them as well
Photography and Art Links
Photo Blog has Tragic Beauty
Mail Online has It's not exactly compact': Six-foot long camera produces pictures that remain sharp at 30-feet long
Photography by Alan Majchrowicz has Winter Photography Tips and Tricks/ Part One
The Washington Post has Photographers' association challenges D.C. regulations
Enlightened Images has When Pre-Visualization meets Reality
Flowers, Trees and Plants Links
Miami Herald has A Hollywood woman's oceanfront garden  tolerates salt, wind and sun
USDA has The Science of Autumn Colors
National Park and National Wildlife Refuge Links
Mother Jones has Let's Not Mine Uranium in the Grand Canyon
Refuge Watch has Canaan Valley NWR Gets 325-acre Addition
AZCentral has Major development planned just outside Grand Canyon
National Parks Traveler has President Obama Uses Antiquities Act To Create Fort Monroe National Monument, More Groups Sue National Park Service Over Big Cypress National Preserve Management Plan, BioBlitz Turns Up More Than 850 Previously Undetected Species in Saguaro National Park , Chair Of House Subcommittee On National Parks Calls Parks, Other Federal Lands Unconstitutional and Stretches Of Blue Ridge Parkway To Be Closed For Months For Work on Historic Guardrails
Wildlife Links
National Parks Traveler has Great Smoky Mountains National Park Gets Approval For Elk Management Plan.
BBC News has Biomimicry: Beaks on trains and flipper-like turbines
Tree Hugger has Uncovered Film Footage Offers Rare Look at an Extinct Bird (Video)
Washington Post has Workers find 16-foot python that had just eaten an adult deer in the Florida Everglades and Deep reef 'twilight zones' slowly yield their secrets to explorers
Ice News has Outright puffin hunting ban suggested in face of population  crisis
Wildlife Extra has Worst ever year for rhino poaching in South Africa
Environment
Sustain A Blog has Map Shows Who Gets Screwed by Climate Change, Who Doesn't
The New York Times has Catastrophic Drought in Texas Causes Global Economic Ripples
Cool Green Science has Seven Tips for a "Greener" Holiday
National Parks Traveler has Science Takes A Hit In President Obama's 2012 Budget
The Christian Science Monitor has The new water wars? Study shows broad decline in Rockies snowpack
If you're in the DC area – I hope you'll join me and other flower lovers at our DC Flower Safari Meetups. Next one is scheduled for November 20t h, you can find me at the U.S. Botanic Garden in Washington DC. Hope to see you there!