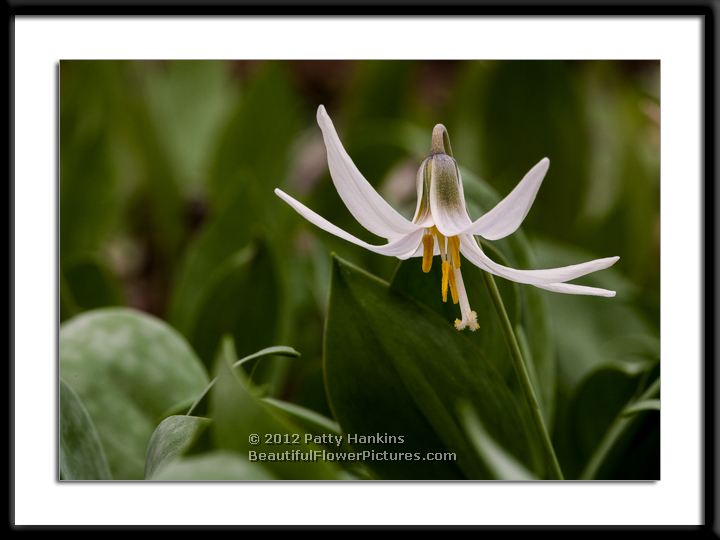 White Trout Lily © 2012 Patty Hankins
Trout lilies had been on my "want to photograph" list for a few years. They are a native lily that blooms briefly in the spring in the Washington, DC area. Word had it that there were both yellow and white trout lilies that bloom at Turkey Run Park in Virginia – the challenge was catching them in bloom.
So in the spring of 2010, I headed out to Turkey Run Park in search of Trout Lilies. I missed the bloom by a few days – spotted a few leaves and the remains of a few flowers.
In 2011, after checking with several other local photographers, early one morning in mid-March, I headed back to Turkey Run. As I started my hike, I saw what looked to be a few trout lilies about to bloom. By the time I was done with my hike – one yellow trout lily had bloomed – and I'd spotted several more that were just about ready to pop. So that afternoon, I headed back. I found lots of the yellow trout lilies to photograph – and got some wonderful photos. I also found three white trout lilies. While I did photograph them, I wasn't particularly happy with the photos – they showed a single white flower but without any context showing the environment I'd photographed it in.
So once again, in 2012, I headed back to Turkey Run. I went in the morning planning on seeing how close the trout lilies were to blooming. They were just about ready to bloom – so I headed back that same afternoon.
By this point, I'd realized that if you're in the right place at the right time, yellow trout lilies aren't too hard to find. You often find them in clusters – and if you're in the just the right spot – you can see a hillside of yellow trout lilies. But at least here in the DC area, the white trout lilies are much rarer. The white trout lily photo I was composing in my mind was going to show not only the beautiful flower, but also that it may just be one trout lily in a fairly large area. When I found the white trout lilies this year – it turns out that there were three of them – just like last year.
And this time, I was able to photograph one of them with my tripod basicly flat on the ground. From this angle, I could show the details of the delicate beauty of the blossom – and have it surrounded by a sea of green leaves – without another blossom in sight.
It was a good thing I'd gone out that afternoon to photograph the trout lilies. I returned to Turkey Run two days later in hopes of photographing a few more trout lilies. The blossoms on the white trout lilies were finished – and most of the yellow ones weren't in very good shape.
Frequently photographing beautiful flowers takes being in the right place at the right time. And sometimes it takes a few years to find that perfect flower at just the right point in it's life cycle to capture the image that I want. But when I do catch it at that perfect moment – all the work and research that it has taken to get the photo – is worth it.
White Trout Lily is my September 2012 Photo of the Month. Until September 30, SAVE 20% off the regular prices for White Trout Lily.