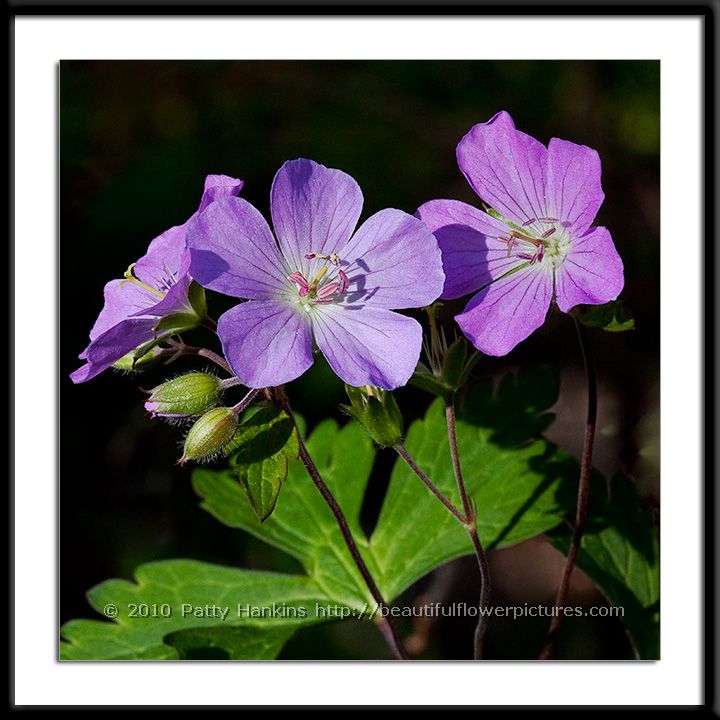 Wild Geranium (c) 2010 Patty Hankins
Here are some sites I found interesting recently. Hope you enjoy them.
Photography and Art Links
Photo Attorney has  Morel Clears First Hurdle in Infringement Lawsuit for Tweeted Photos
Chicago Magazine has The Life and Work of Street Photographer Vivian Maier
A Photo Editor has   Morel vs AFP and Getty: New Developments
Flowers, Plants & Gardening Links
Beautiful Wildlife Garden has Resolve to do More and 5 Books for the Butterfly Garden
National Park Service has Chestnut Blight and the Good Virus
National Park and National Wildlife Refuge Links
Refuge Watch has Refuge: Pea Island — the DVD,  Video Monday: Winter Life at Blackwater NWR , President Signs NWR Volunteer Improvement Act of 2010 and Controversial Request for Beach Fencing at Chincoteague NWR
National Parks Traveler has Looking Back On 2010 Across the National Park System,  National Park Stories We'd Like To See In 2011,   Political Lineup For House Natural Resources Committee Sure to Produce Fireworks Over Public Lands, 111th Congress Did Well When it Comes to National Park Wilderness, But It Could Have Done Better,     What Are The Top Issues Confronting The National Park System?, Interior Secretary Sets Aside 17 Fee-Free Days Across the National Park System and    Big Cypress National Preserve Superintendent Defends "Addition" Lands ORV Use
Wildlife Links
BBC has Secret lives of baby American beavers filmed and Rare monk seal colony found in the Mediterranean
ZooBorns has Back to Back Cheetah Cubs – 2 Firsts for Smithsonian
ABC has  Researchers Find "Alarming" Decline in Bumblebees
TreeHugger has  10 Invasive Species that Changed the World Forever
Miami Herald has A plan to rid Keys of predator species
Environmental Issues Links
Washington Post has EPA Unveils Massive Restoration Plan for Chesapeake Bay
BBC has China official warns of 300-year desertification fight
Slate has Will The Gulf Ever Be Oil-Free?